Why Book a Transfer

Meet & greet
Your driver will be waiting to meet you no matter what happens

Cost-Effective
Enjoy a high-quality transfer experience at exceptionally low prices

Timely
We ensure that you will get picked up right after your flight lands

Door-to-Door
For complete peace of mind we'll take you directly to your hotel door
Taxi to and from Harpenden to L & D
1ST Airport Taxis offers fast and efficient trips to and from Harpenden to Luton & Dunstable Hospital for non-emergency and business travel.
We are delighted to serve the locals in Harpenden, helping them comfortably get back and forth to and from the hospital on time.
With over 25 years of experience in this trade, we take pride in carrying out safe and reliable trips, and the safety of our passengers is our main priority.
To guarantee the security of our passengers:
- All drivers are CRB background checked annually. We only employ honest and reliable drivers.
- All cars are inspected regularly and wiped down after each journey to remain Covid secure.
- All drivers are assessed by the local council and must pass their test before employment with us.
- All journeys are monitored closely by our operators, every ride is tracked, so we are aware of any unusual activity.
- All customers have the right to share their journey in a simple click with loved ones, family and friends by using our latest technology.
Taxi to and from L&D to Harpenden
We specialise in providing the quickest yet safest trips from Luton & Dunstable Hospital to Harpenden. Thanks to our latest technology, our team of friendly operators are at your service 24/7, seven days a week, to answer all your queries.
You can communicate with your operator anytime via live chat, email, telephone and WhatsApp. If you are travelling with a child and require a baby seat, please let us know.
Booking with 1ST Airport Taxis means there are no hidden charges, this is why there is no additional cost for hiring baby seats. Baby seats are provided free of charge with your final quote.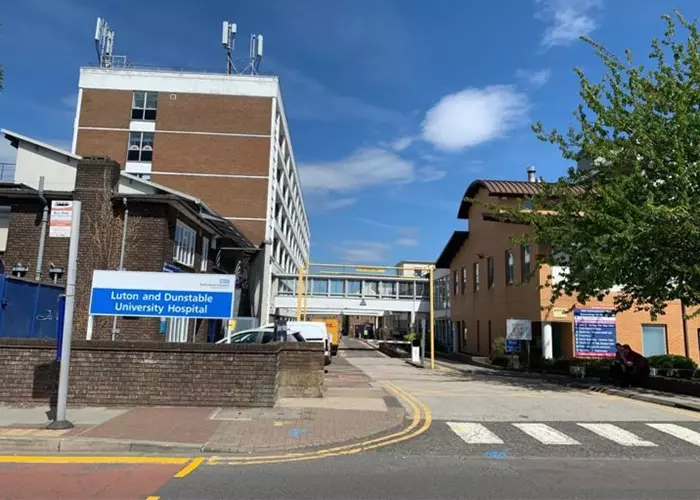 ---
What is a baby/booster seat? 1ST Airport Taxis providers baby seats for all age children on board are seated on baby seats. 1ST Airport Taxis is the only taxis in Harpenden...

1ST Airport Taxis installed flight monitoring systems you don't need to worry if your flight delays we tracking your flight live in order to provide you prompt airport pick-up...

What is meet and greet service? Meet and Greet are the type of specially requested by passengers who don't want to waste time looking for taxis after landing at the airport...
---
How Much Will A Taxi Cost From Harpenden To The Airport?
Below you may find estimated pricing for a four-door saloon taxi from Harpenden to different airports.
| Transfer To | Journey Time | Single Trip | Return Trip |
| --- | --- | --- | --- |
| Luton Airport | 34 minutes | £35 | £70 |
| Heathrow Airport | 1 Hour 2 minutes | £93 | £186 |
| Stansted Airport | 1 Hour 21 minutes | £152 | £304 |
| London City Airport | 1 Hour 27 minutes | £144 | £288 |
| Gatwick Airport | 1 Hour 41 minutes | £179 | £358 |
*The aforementioned Harpenden Airport Taxi prices are from January 2019 onwards. 1ST Airport Taxis LTD
---
Frequently Asked Questions
How will I know where my driver is waiting?
Do you provide vehicles that can accommodate more than four passengers?
Yes, we do! We have a wide range of MPV 5 seaters and eight-seater minibuses for you if you are travelling in big groups or require a bigger vehicle
Are your taxis safe to travel in during this COVID-19 crisis?
Will it cost if I want to cancel my pre-booking?
---
We cover all the nearby airports
---
18,820 Happy customers
5

out of

5

(View All

18820

Reviews )

Met this company's driver at the airport for pickup. So, I decided to book one with them. interestingly, they are more inexpensive than they present on the website. Good service.
Tatiana Shively
It's a fine company. Everyone went smooth. I travelled from Birmingham Airport to Harpenden. I must say the punctuality & pricing is simply great. See you guys next weekend. Cheers.
Jason Mcwilliams