Special Assistance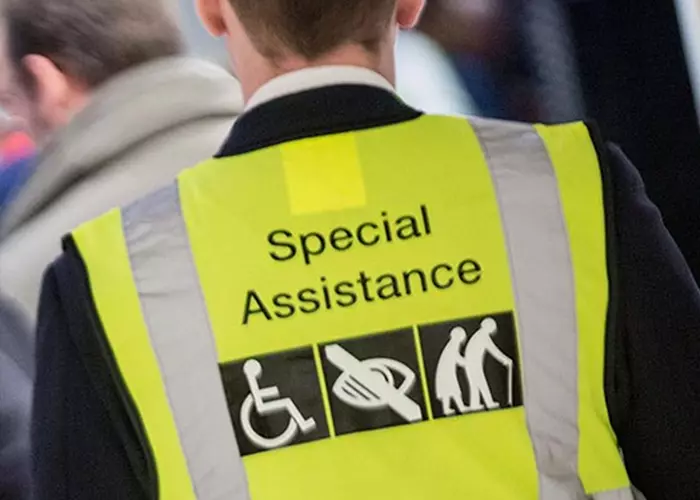 Making your way around an airport can be trying at the best of time, but if you or someone in your travelling party needs special assistance, the thought of flying can be off-putting. Thankfully, London Luton Airport caters to travellers who have special requirements, and the airport works in partnership with the following groups:
The Disability Resource Centre Dunstable
Autism Bedfordshire
Guide dogs for the Blind
Action on hearing loss
JDRF
Alzheimer's society/Luton Dementia Action Alliance
Age UK
SIA and independent disability advocates & travellers
Luton Airport is fully committed to ensuring that all travellers who are classed as "persons of reduced mobility" can enjoy the best possible experience when travelling.
Please contact the airport in advance
Anyone who needs to arrange special assistance at Luton Airport, for mobility or disability reasons, should do so in advance of their trip.
If you have an assistance dog who will be travelling with you, you should look to register this dog in advance of your trip. Contact the airport by email with your flight details and you should also send pictures of your assistance dogs' documentation to specialassistance@ltn.aero.
Please ensure your assistance dog is chipped, is fully vaccinated and holds a pet passport.
If you are travelling with specialist medical equipment, it is helpful to bring certification from your doctor which details your need to have this medicine. Airport security staff have the right to question passports on medicine they carry through security, and you might be asked to authenticate any items you have.
If you rely on an electric mobility aid, you must inform the airline or tour operator at least 48 hours in advance of your trip. When you arrive at the airport, please contact the Special Assistance team, and they will take you through the process of going through security, and boarding your plane.
Getting Through Security At Stansted Airport - FAQs
Can you book special assistance at Luton Airport?
Yes. If anyone in your travelling party requires assistance in getting on or off the plane, please contact the airline at least 48 hours before you are due to travel.
The airline will inform the staff members at London Luton Airport, and there will be a special assistance team member waiting to help you when required.
Do you have hidden disabilities?
If you are one of the many travellers who has a hidden disability, you can claim additional support at London Luton Airport. The airport encourages people who need assistance to utilise the special assistance service, and the airport recognises the sunflower lanyard or sticker.
Do you need assistance when it comes to parking?
Luton Airport is happy to provide additional support and services to passengers requiring additional support in parking at the airport. There are "blue badge" spaces in Terminal Car Park 1 or 2. If you require your blue badge for your trip, please inform a member of staff, and this will be noted.
There are specialist dropping off points in the Terminal 1 Car Park, on levels 0 and 1, for people who require special assistance when entering Luton Airport.
The shuttle bus service between the airport and Luton Parkway station is accessible for wheelchairs and Category 2 scooters. Any passenger who requires help should ask the driver.
Can I get help when checking in?
If you require assistance for the check in process, or making your way through security, you will receive this help at London Luton Airport. Please contact a member of the special assistance team upon arrival at the airport, and they will ensure you have the help you need.
Luton Airport offers adult changing facilities (found next to Gate 17), and there is also a quiet room located close to Gate 17. There are also water fountains available after security.
Hearing loop facilities at the airport have been improved, and anyone travelling with a service animal will be pleased to know there is a service animal relief area, at the front of the terminal building. This is located close to bus stop T.
---
We cover all the nearby airports
Our airport taxi service offers travel that is both fast and reliable. Pre-book up to three months in advance.
17,896 Happy customers
5

out of

5

(View All

17896

Reviews)

I booked 1ST Airport Taxis after trawling the web looking for a good deal, especially as we needed collecting at 05:00 to go to Luton, and then arriving back at 23:30! Most companies quoted about £50+ for the night collection.
Dianagh
I'm very sceptical about local taxis until I booked these guys. I travelled with my family, booked the 8-seater. I'd rate the overall experience 9/10. Cheers.
Jess Melendez