Cost Effective Airport Transportation To Luton Airport
Luton Airport is known as being the home of many budget airlines. Therefore, a lot of travellers choose to fly from Luton Airport because it is an affordable option for flights. It therefore stands to reason these travellers won't want to spend a lot of money in getting to and from the airport.
Thankfully, there is cost effective airport transportation to Luton Airport, and we have some options for you think about.
Travelling to Luton Airport by bus or coach
Understandably, there is a wide range of coach services running between Central London and Luton Airport. National Express operate 24 hours a day, with four departures an hour during peak times. There are two routes between London and Luton Airport, picking up and dropping off at major rail and Underground stations.
Green Line also offer the 757 service which runs twice hourly during the day. The 757 to Luton Airport runs from Victoria Coach Station, and stops at Marble Arch, Baker Street, Finchley Road and Brent Cross.
National Express operate services to Luton Airport from across the country, including pick-ups at Northampton, High Wycombe, Oxford, Leicester, Nottingham, Cambridge, Milton Keynes, Stansted Airport, Heathrow Airport and Gatwick Airport.
Stagecoach operate their 99 service between Luton Airport and Milton Keynes. Busway operate their A service between Luton Airport and Houghton Regis, Dunstable, Luton Station and Vauxhall.
Local bus services operate from Luton Airport, heading to Luton town centre, Milton Keynes, Stevenage, Hitchin, Leighton Buzzard, and Dunstable.
Travelling to Luton Airport by train
While there is currently no train station directly at Luton Airport, the shuttle bus service between Luton Airport and Luton Airport Parkway takes around 10 minutes. Remember to include this time when arranging your travel.
Passengers travelling from London, can take a direct train from Blackfriars, City Thameslink, Farringdon and St Pancras International. The average train journey from London to Luton Airport Parkway is 40 minutes, and the fastest journey is 24 minutes. At peak times, there are trains every 10 minutes, but an around the clock service is available. Trains travel through the night around once every hour.
Trains to Luton Airport Parkway also run from South London and Brighton stations, allowing for connections across the South East of England. On average, there are trains every 20 minutes at peak times.
Passengers travelling north from Luton Airport Parkway can journey to Luton, Bedford, Derby and connect to stations in the North. At peak times, there are trains every 20 minutes.
Hop on a direct train to Luton Airport Parkway from South London, stations from Brighton and connecting trains from the South East.
Airport parking at Luton Airport
If you are travelling to Luton Airport, the postcode to enter into your Sat Nav is LU2 9QT. There is arange of car parking options available at Luton Airport including official car parking, meet and greet services, and off-site car parking.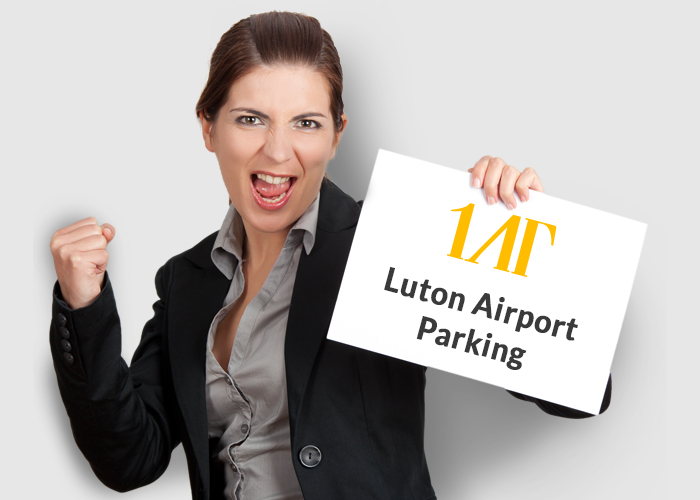 The off-site parking, with free shuttle bus services, are usually the most affordable options, but please check with each car park provider to find their best deals.
The official car parking options at Luton Airport include:
Meet and greet parking options which takes you close to the terminal building
Mid-stay parking which offers a 5-minute shuttle bus service to the terminal building
Long-stay parking which offers a 10-minute shuttle bus service to the terminal building
Terminal Car Park 1 and 2, which is a short walk across the bridge and a 5-minute shuttle bus from the terminal building, respectively
Luton Airport Parking Options and cost
The Luton Airport website allows travellers to pre-book their parking space online, with the website claiming travellers can save 70% by booking their parking spot online.
As of the end of January 2020, parking costs for a one-week stay at Luton Airport is listed as:
| Parking | Meet and Greet | Price |
| --- | --- | --- |
| Long-Stay Car Park | -- | £56.99 |
| Mid-Stay Car Park | -- | £59.99 |
| Terminal Car Park 2 | -- | £78.99 |
| Economy Parking | Meet & Greet | £87.29 |
| Terminal Car Park 1 | -- | £87.99 |
| Priority Parking | Meet & Greet | £96.99 |
Travelling to Luton Airport by taxi transfer
Affordable taxi transfer services to Luton Airport operate around the clock, with guaranteed prices which can be arranged in advance. Meet and greet services are available, and passengers will be dropped off as close to the terminal building as possible.
Book Luton Airport Long Stay Parking
Booking the long-stay parking option at Luton Airport is a simple process. You can book the long-stay parking option online, and the process walks you through selecting the check-in and check-out date for your trip.
If you need to book any additional services for your car during your trip, you can do so here. Following this, you will confirm the booking and make payment. As of January 2020, the Luton Airport website claims to offer a 67% discount when booking your long-stay parking space online.
New Multi-Storey Terminal Car Park 2
The multi-storey Terminal Car Park 2 opened in 2019, and it has been a popular addition to the range of parking services at Luton Airport. The transfer time to the terminal is listed as a five to six-minute walk.
Anyone looking for an affordable yet convenient parking space at Luton Airport should find the multi-storey option of interest.
---
We cover all the nearby airports
17,866 Happy customers
5

out of

5

(View All

17866

Reviews)

I booked 1ST Airport Taxis after trawling the web looking for a good deal, especially as we needed collecting at 05:00 to go to Luton, and then arriving back at 23:30! Most companies quoted about £50+ for the night collection.
Dianagh
I'm very sceptical about local taxis until I booked these guys. I travelled with my family, booked the 8-seater. I'd rate the overall experience 9/10. Cheers.
Jess Melendez